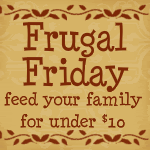 It's late, but it's still Friday! I've been trying (unsuccessfully I might add) to get my Christmas shopping done today. Hauling three small children in and out of stores in freezing temperatures isn't the most fun I've ever had! So, I actually haven't cooked the recipes for today. . .I'll do that tomorrow, but I do have them ready for you!!
3 tilapia filets--$1.75
1 tablespoon taco seasoning--$.25
2 cups whole wheat flour (or white if you prefer)--$.75
1 teaspoon salt--$.10
1/4 cup butter--$.40
2 apples--$.87

2 tablespoons sugar--$.10
2 teaspoons cinnamon--$.05
3 cups flour--$1.00
3 teaspoons baking powder--$.10
1/2 teaspoons salt--$.05
1 cup sugar--$.50
1/2 cup brown sugar--$.25
1 cup vegetable oil--$.50
2-1/2 teaspoons vanilla--$.30
4 eggs--$.48
Total for today's meal=
$7.45
Of course, if you decide to top your fish tacos with lettuce, tomatoes, cheese, etc., your total would be closer to ten dollars. Still a pretty cheap meal, though!!