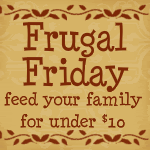 As most of you know, I have been posting Frugal Friday meals for the past few months. I really enjoy the challenge of feeding my family for under $10, but I'm running out of ideas! I would really, really love to challenge you to develop meals (main course, side dish, dessert) for your family, tally up the total cost of the meal, blog about it, and then link your blog to mine. Doing this will give us all more ideas for frugal living, which I'm sure we'd all love to have this year!
I'll still be brainstorming and posting my own Frugal Friday dishes, as well as reading all of your entries to help get meal ideas for my own family. I'm always looking for new recipes!
We'll start this Friday, so start thinking about dishes that you prepare that cost less than $10. I'll post the MckLinky Friday morning. Be sure to grab one of my Frugal Friday buttons from the left side bar. I am looking forward to seeing your creations!
Best Dishes,