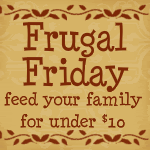 So, are you ready to post your Frugal Friday meals? I am so anxious to see what you all have come up with! I'll post mine soon, so be on the lookout.
Is this your first Blog Hop? If so, I'll walk you through how to do this. It's easy, really! First, grab the code to my Frugal Friday button and paste it into the body of your post. Then it's time to write your post. Don't forget to write a sentence linking back to me, so that your readers can check out all of the Frugal Friday blog postings! After you have published your post, view it and click on the
TITLE
of your Frugal Friday posting. This will change the words in your url to say something like, "www.yourblogtitle.com/titleofyourpost. Copy this and paste it where the MckLinky asks you to. This will link the readers directly to your Frugal Friday posting.
Are you ready? If you have any questions, don't hesitate to ask!